Why not create some memories after lockdown with your family? Each Spring Family photo session lasts 45mins and we will use at least 3 gorgeous places in the park to take your photos, included in the session is 5 digital images of your choice and the cost is £125 which is payable when you book.
To book click here on my home page: https://debbieharephotography.co.uk/
Please use our new online booking system that is super easy to use and you will be able to book your session time and booking fee all online as soon as you decide which date and time you would like to book and all the information you need to get the most out of your photo shoot. I will also be operating with a Covid-safe guarantee, so if we book a session and then we are unable to do the photo shoot due to national or local lockdowns then you will have the choice to reschedule your shoot, or I can refund your booking session fee.
When you have booked I will send you a booking form and we can discuss anything special photos you might want included.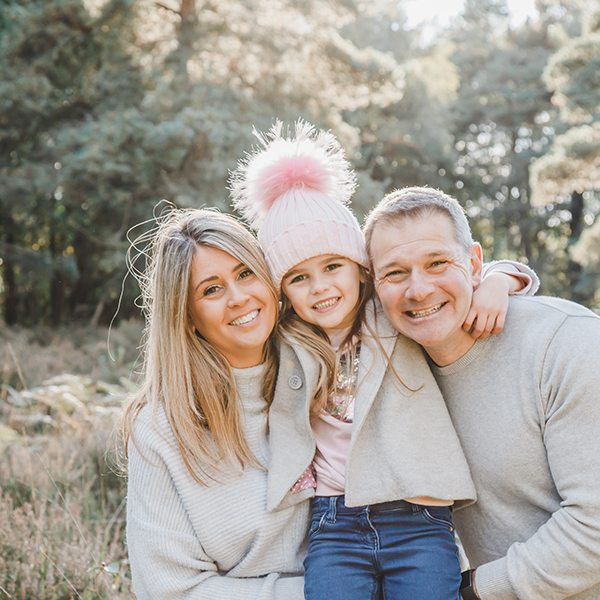 So how will Covid-19 affect booking, a family photo shoot
Outdoor Family photo shoots are perfect for social distancing we can keep 2m apart and I can wear a mask to protect you.
The safety of your families when coming to a photo shoot is really important to me! I am looking forward to meeting you and photographing you and your family,
Can I buy a Gift Voucher?
Perfect for those wanting to book a photoshoot but prefer to wait till things settle down again. Giving your family something wonderful to look forward to.
Ready to book your Outdoor Family Photoshoot at Lightwater Country Park, Surrey?
Book here on my home page: www.debbieharephotography.co.uk
When you have secured your booking here are some top tips for booking a family photo shoot to help you plan ahead to ensure your shoot is NOT stressful BUT successful and you get the memories you are looking for, Ready? Here we go:
CHOOSE A GOOD TIME OF DAY:
The photo shoots are available from 9am so choose a time that suits you and your family.
MAKE TIME TO GET READY:
Allow plenty of time to get ready and get to the location, there is nothing worse than arriving stressed or late! Mums are often rushing around getting everyone ready and dressed for the shoot. If you have time to prepare everyone will feel happy and confident during the shoot, this will definitely reflect in the photos! Plan your outfit in advance of the day, don't leave it until the last minute. Feel free to text me photos of your wardrobe if you're having a hard time choosing! I'm happy to help.
PREPARE THE FAMILY:
Tell them what is going to happen, that it's going to fun! Maybe come up with some ideas of what you are looking for together or bring some props to personalise your photos. When you do something you love doing together, I will be there taking some natural and beautiful photographs.
HAVE FUN WITH YOUR FAMILY:
Don't be afraid to pick up your children and play with them. Have fun, Laugh, Joke, hug and play – show emotion. By doing these things will allow me to capture you and tell your story through the photos we create together.
Help me create more candid shots by playing with your children!
BRING A DRINK OR SNACK FOR YOUR CHILDREN:
If you have young children please feel free to bring something for your children to eat and drink, maybe even some surprise treats that might help to get their winning smiles!
I AM A PARENT:
I understand that children might need a break for a drink, need a diversion, they might get dirty, that a photo shoot I will help to make the photo session as fun as possible! I have been photographing families for over 15 years, so I have some great ideas to ensure we get everyone having fun and smiling!
ARE THERE ANY SHOTS YOU WANT?
Please let me know any specific photos you are looking for; you are welcome to send me a list in advance. Do you want some photos of your children individually for example? Maybe you with the children and then dad with the children…
After the photo shoot your images will be typically will be ready around 2 weeks later on your own online gallery where you can choose your favourites. If you need any help with displaying the photographs within your home, please book a time with me and I will help you with framing and display options.
Lightwater Country Park, Surrey
Lightwater Country Park is the perfect setting for a Spring Family Photo shoot, we will take you to 3 great locations in the park, there is the gorgeous lake and woodland areas where we will take the photos. The park is easy to access from the M3, has good facilities, cafe and play park.
https://www.surreyheath.gov.uk/residents/sport-leisure-parks/lightwater-country-park
If you need any further information on a family photo shoot, please call on Debbie on 07976397638 or email info@dhwp.co.uk
www.debbieharephotography to book your family photo shoo.t
I am really excited to be back working again and looking forward to seeing you on the 23rd or 24th April!